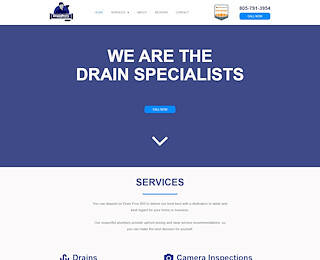 The plumbing that is installed throughout your home is essential for everything to run each day smoothly. Should you run into issues, you need to know that you have the right plumber in Montecito to provide you with quality service.
Why Professional Plumbing in Montecito? 
Good plumbing that is well-maintained ensures you have clean water coming in from your faucets, that your toilet fixtures flush properly, and that you have enough hot water and good pressure for your showers. Rather than taking the risk of a DIY project, calling in a skilled Montecito plumber will help you to know everything will get done the first time correctly. Failure to complete maintenance or getting a repair done right could cost you even more money in the long run. 
Have you run into issues where your water heater goes on the fritz overnight, on the weekend, or during a holiday? If so, then you will need an emergency plumbing company in Montecito, CA, to help. Even if you have drain issues, clogged toilets, or the need for a sewer inspection, you will always find that calling in the pros will give you peace of mind.
Choosing a Plumber in Montecito 
You need to think about several things when you need help with your plumbing near Montecito. These are some of the things to look for and what you can count on when you hire us at Drain Pros:
Licensed and Insured – Having properly licensed plumbers on the job tells you that they have been through training and certification to perform the work. When it comes to insurance, this coverage is in place to protect both parties should anything go awry during your plumbing project.
Communication – Not everyone knows the inner workings of a plumbing system. Our team at Drain Pros is happy to go over the details of each job, including providing you with a cost estimate for the extent of the work you require. We believe that communication with our customers is key, so never be worried about asking us questions or getting clarification.
Service Offerings – You need to have a plumber in Montecito that handles everything you are looking for. Here at Drain Pros, we feature a broad range of service and maintenance offerings, including:

Line location
Pipe bursting
Hydro-jetting
Drain service
Camera inspections
Sewer spray lining
Sewer replacement
And more! 
Drain Pros arrives quickly to get to work, and all of the work we perform is guaranteed. We are happy to provide you with a no-obligation quote, and you will see that we are fair with our pricing. We have decades of experience in the plumbing industry and have a long list of happy customers who keep coming back for repeat service as needed.
When you need drain specialists, you need to know that you have a team that cares about your property and our customer base. Get in touch with us today to learn what sets us apart from the rest!
Call Drain Pros at 805-285-3845 when you need a reliable plumber in Montecito. Go over your needs, and we can give you a no-obligation quote at any time.
Plumber Montecito